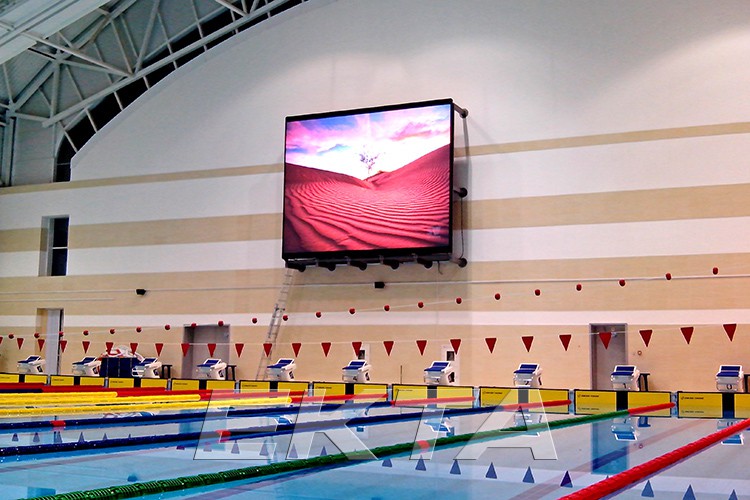 EKTA, commissioned by the Swiss company Swiss Timing, equipped the water complex of the Belarusian State University of Physical Culture (BSUPC) with LED screens.
Two LED video walls with area of 27 m² and 9 m² and virtual pixel pitch of 8 mm were installed based on strict technical requirements. EKTA specialists paid particular attention to the issue of security.
Screens have IP65 degree of protection. This means that the ingress of water, dust, humidity or extreme temperature changes will not affect their reliability. In addition, the equipment complies with the fire resistance category V-0 IEC60695-11-10, IEC 60707. In other words, electronic components and power supply system cannot be a key of ignition.
Due to brand control system, the screen image is transmitted without delay, with a high degree of synchronization of the picture. This parameter is necessary for the convenience of spectators and participants. The video wall will broadcast the current actions of athletes, their individual results, general information and the brightest moments.
Swiss precision
Swiss Timing - a world leader in the design and manufacture of electronic judging and timing systems for sports competitions. The company makes equipment for virtually all sports represented in summer and winter Olympic Games, as well as a broad range of monochrome and color matrix boards.