ISE 2015: full control over LED solutions in one click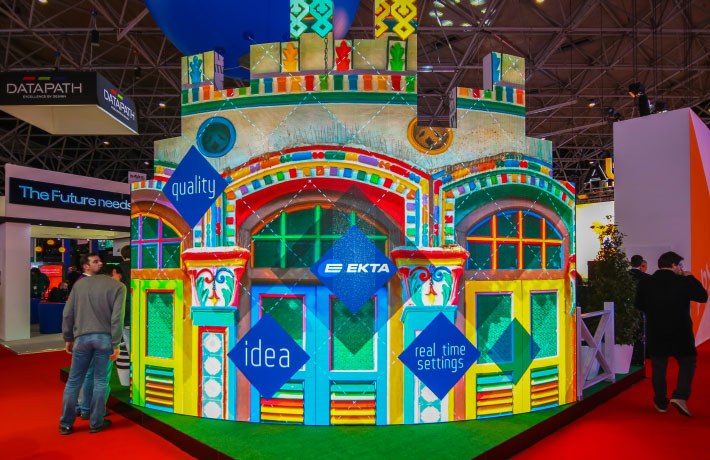 EKTA presented a number of technical solutions, which make it in several-fold easier to manage complex visual projects.
This year at the international exhibition of audio and visual equipment Integrated Systems Europe 2015 EKTA demonstrated a radically new approach to the issue of image control.
Innovation in management
New generation video processor ERMAC Ultra, an innovative product in the field of LED-technology management, ensures customer complete real-time control over image parameters. With a new product client can easily manage the color settings, at both high and low brightness, up to 0.4%. Broad adjustment of gamma correction and color temperature are also available.Uniqueness of ERMAC lies in the fact that it allows you simultaneously to manage a complex of 32 screens of different models and configurations that increase manyfold the capabilities of other devices on the market.
"As a rule, to manage one or several screens of the same type requires one video processor. ERMAC Ultra readily works up to 32 screens of different types and sizes. This distinguishes it from other processors on the AV-technology market and opens up opportunities for the most grandiose projects", - says EKTA`s sales director Oleg Bogomolov.
Innovation in image
EKTA presented a new model of hi-end screens for indoor use. Pixel pitch 2.6 provides exceptional image quality with minimum possible viewing distance from the screen to the audience - 2 m.
Module iLVM 2C-Qc is the optimal solution for business. The screens are designed for use in television sphere and luxury retail, as well as for events demanding high-resolution imagery and high density of information, where reliability is of critical importance.
In conjunction with the control system ERMAC by EKTA, screens provide complete control over image parameters.
Innovations in design
Traditionally, the principal product of company, EKTA LED Floor, attracted particular attention of visitors. This year, it has been demonstrated an optional model with physical pixel pitch of 6 mm, which provides high definition content broadcast.
EKTA video floor successfully used in the design of the concert stage, exhibition stands, and nightclubs, as well as for shooting music videos and commercials. It enjoys high demand in the field of television. LED floor is used for the design of television projects in Switzerland, France, and Germany.
EKTA WOWFloor is a reliable solution for all types of buildings and open spaces, as all modules are covered with impact-resistant triplex and withstand up to 1,000 kg / m².
Technical Partnership
Letters «ISE» by EKTA has become a tradition of the exhibition. From LED modules of the model iLVM 6C-B, located in the area of entrance K (Europa Entrance), assemble abbreviation Integrated Systems Europe 2.4 m high and 6 m wide. The original design attracted the attention of visitors, since, depending on the point of observation, changed perception of content displayed on all planes of installation.
Integrated Systems Europe
The first Integrated Systems Europe tradeshow was held in 2004. Starting from 2008 EKTA is its constant participant. Today it is major professional show that reflects the situation on AV-market and enables to forecast its development trends. This year more than 1000 new products were presented in 12 halls of the Amsterdam RAI with a record-breaking number of 50000 attendees having passed through its doors. The show attracted more than 500 journalists of specialized media. The next year, due to the increased number of exhibitors, the duration of the exhibition will be four days, instead of the traditional three.