EKTA Press Kit
EKTA PRESENTS THE UNIQUE FRAMELED PRODUCT FAMILY POWERED BY ERMAK ULTRA WITH SPU-10, A COMPREHENSIVE SOLUTION FOR THE PREMIUM RENTAL AND FIXED INSTALLATIONS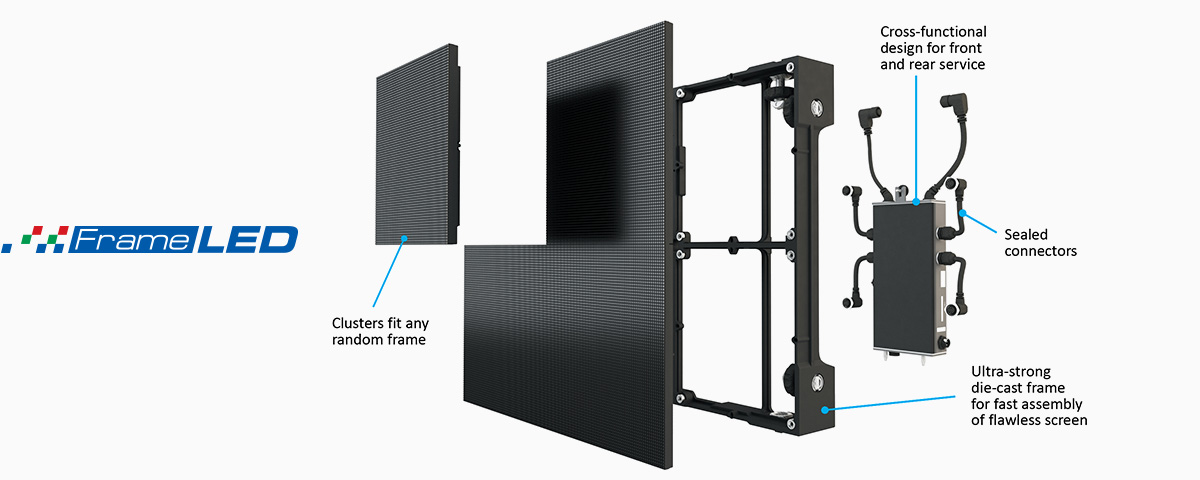 EKTA, a leading LED display developer and manufacturer, based in Ukraine, is introducing at the ISE exhibition 2018 the FrameLED product family to hit the market of high-demand rental and fixed applications.
As the start of FrameLED Plus product line, the company launches two models of LED display modules. LVM 3P is an ultra-high-contrast outdoor LED module with 3,86 mm pixel pitch. This model is targeted as a versatile solution to cover a broad variety of rental cases, either outdoor or indoor, as well as high-resolution fixed outdoor installations which meet the highest requirements to image quality. The other model, iLVM 2P, is an indoor solution with 2,68 mm pixel pitch, suitable for high-resolution projects with the top demand to image quality and control function, for example, TV studios.
As light as air
EKTA's original 386x386 mm module frame design was reinvented and reengineered as R1 design within FrameLED product family, to deliver outstanding frame strength, allowing assembling a perfect screen surface with a subtle movement of the hand, without any fine-tuning or re-assembly. R2 design is the cost-effective solution for rental business taking over all the benefits from single module R1 FrameLED by EKTA. R4 provides especial 2xR2 design for large-scale led screen rental projects. Finally RT design is the best solution for touring events, several modules (3xR2 and more) assembled and transported together. With only 28 kg/m² weight of iLVM 2P, FrameLED stays as one of the world's lightest rental screen solutions.
Intelligence under the surface
All the FrameLED product family designs boast EKTA SmartSurface technology, a set of intelligent module features introduced by EKTA and being continually developed for many years. SmartSurface includes a know-how pixel-by-pixel calibration technology, extended functions of LED control to ensure brilliant picture at any brightness and proper image quality on low brightness grades starting from 0,3% of maximum brightness. Also, SmartSurface allows maintaining remote module diagnostics functions and monitoring the technical screen status over a cloud service.
Total solution
FrameLED products are powered by newest EKTA ERMAC ULTRA control system, to implement its unbeatable performance in video processing, image quality, extra functions like real-time video cropping, scaling, mixing, image properties control, and brand Uniformity² screen calibration and alignment functions.
Celebrating the 25th Anniversary of Loyalty and Innovations

EKTA, a leading European-based manufacturer and developer of LED products, last year celebrated its 25th year birthday.
Coming through more than two decades, EKTA rapidly conquered the world of LED innovations and joined the number of key players on the market of AV technologies.
Step back in history
Originally founded by a team of Ukrainian highly-experienced engineers, EKTA started as a plasma displays manufacturer. Over the course of time, its policy was considerably modified, and in 2000, the company designed its first LED screens, which became the lightest and the thinnest in the world, and afterward, won a Guinness World Record due to its cutting-edge 3D technologies.
On the firing line
To date, EKTA with a workforce of more than 200 employees, having a head office in Ukraine and a branch office in Germany has global sales and supports partnership relations with France, Estonia, Sweden, Norway, Azerbaijan, Russia and the GCC region. Carrying rental DNA, based on its long-time rental business experience, EKTA's highly professional team performed hundreds of integrated rental and fixed installation projects of top complexity for the most demanding customers in Europe and Asia. Due to the 25 years of commitment to customers and projects, the company has earned an unchallenged reputation, and its products are currently acknowledged by professionals in various markets all over the globe.
Wrap-around approach
Being the design engineer and manufacturer of the entire turn-key solution, including architecture, LED modules, control system, commutation and software, EKTA meets all the customers' needs and takes full responsibility for solutions' performance.
With any device of ERMAC Family, which involves LED Control System, Multilayer Video Processor, Scaler, Mixer in one box, you get complete control over image parameters in real-time. The universal architecture of the product allows you to broadcast on the video surface a high-quality image regardless of the model and configuration of screens.
"Stepping into the 26th year of creating innovative solutions, EKTA continuously upgrades its technologies to turn the most challenging ideas into reality, enabling customers to take more projects with EKTA to break the mould and to be ahead of the future," stated the founder of the company, present-day Adviser Director General, Igor Pastukh, who has been directing the company since 1992.
Interview with the Founder: Spotlight on LED Business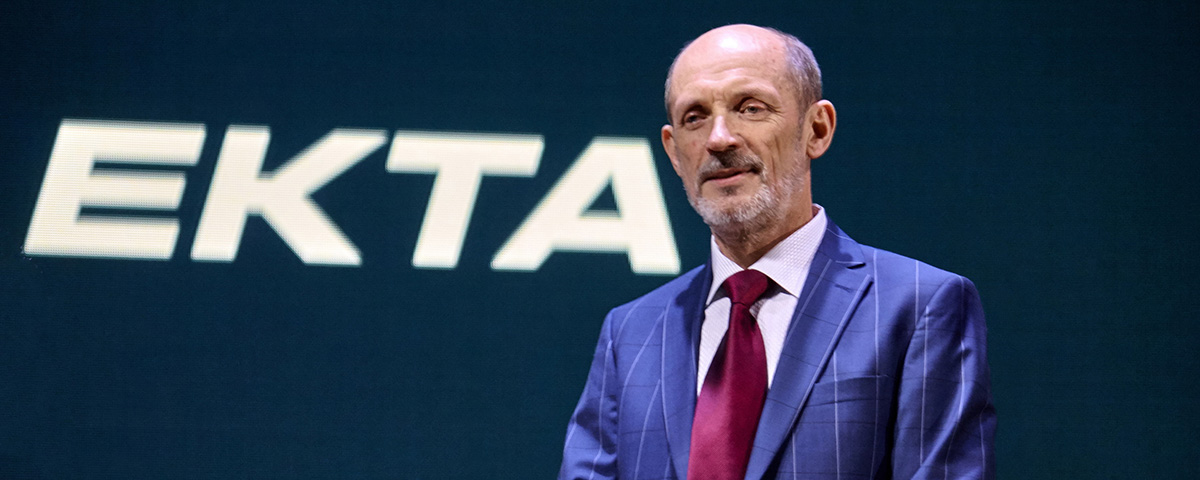 Igor Pastukh – the founder of the company and present-day Adviser Director General, who has been directing the company since 1992, tells the EKTA's story.
1. When you started your business in the sphere of AV technologies, the LED industry was not sufficiently developed. At what point and why did you decide to engage in LED development and manufacturing?
Before triggering the LED production, a team of EKTA professionals was already technologically-minded. Ukrainian engineers were highly competent in plasma solutions. As a result, EKTA entered the European market, introducing a hi-tech Media Garden Project for the Germany National Exhibition Hall at EXPO'2000 in Hanover. The significant groundwork, numerous references and in-depth knowledge of active matrix displays design has given rise to LED development start-up.
At the same time, the market required sharp changes, and we understood that the next step of module displays development should be based on the more efficient luminous elements. Efficiency output of the LED displays was significantly higher than the gas-plasma ones. The power consumption of LEDs was much lower, even at the more extreme brightness. Furthermore, low speed and complexity of plasma cell control triggered a further extensive LED application.
2. What kind of products does EKTA develop and manufacture for the time being?
During the 25 years of existence, EKTA product line-up has been expanded to the three core pillars: led displays, led lighting, led variable message signs. Besides, EKTA, being a design engineering and manufacturer of the entire turn-key solution, delivers end-to-end project execution, including complex design, class-leading clusters, and modules, high-end LED control system, full integration with related systems, custom software development, equipment assembly, after-sales service, and support.
3. What is your theory on success? What decisive factors drove EKTA to advance?
Right place, right time, right people equals success. This is a combination of persevering work, highly-experienced tech-savvy team, current demand for the product, and just good fortune. We took advantages of our opportunities with deep involvement in the working process and high level of responsibility.
4. Everybody experiences failures. How do you overcome breakdowns?
Failures are worth having because they are the major accelerators of success. Overcoming failures in business help you to find out what needs to be changed, and this is incredibly valuable. In the light of this, we need to analyze the situation and make decisions based on logical conclusions, rather than emotions.
5. What are EKTA's biggest accomplishments? What solutions are you most proud of?
One of the company's greatest achievements was Guinness Book of Records recognition. Measuring more than seven meters diagonally, EKTA's 3D LED screen, installed in Gothenburg, Sweden has earned a world record with a diagonal of 7.11m for being the largest of its kind. It was not easy to take on a risk, creating investment-intensive, sophisticated, technically challenging project at that time, but the results exceeded all our expectations. The demand for EKTA 3D LED screens has increased significantly within the entertainment industry, gaining credibility from clubs, discos, shows, concerts, fan zones and bars, museums and amusement parks.
Another breakthrough in the company's evolution was the invention of a new LED processor/controller generation – ERMAC. It combines functions of different video processing devices into a single state-of-the-art solution and allows total control of up to 32 different LED screens or digital panels in a chain. Today, in circumstances where client's time is of great value, the all-in-one device opens tremendous technical opportunities to the customer, making possible to streamline content management and to perform any settings and adjustments in a real-time mode.
6.The success of the company is a balance between the use of past years' developments (exploitation) and the discovery of new horizons (exploration). What is the balance between exploitation and exploration in your company?
Success is never an accident, and it is based on the accumulated experience and matured practices. At the same time, present-day market of AV technologies and LED industry, in particular, are very dynamic and high developing. Every year, the consumer is becoming more well-informed and technically-educated and as a consequence needs unconventional out-of-the-box solutions. That is why innovation is becoming the primary driver of EKTA growth and development for the next few years.
7. Where do you put the profit? What is EKTA's priority area for investment?
To date, EKTA increases its investments in the R&D innovations, improvement of customer service quality, and personnel training and motivation.
8. How do you see the company changing in 10 years?
EKTA was always a team of very passionate visual display creators sharply focused on advanced products. We now experience a shift of becoming passionate about customer needs and preferences while targeting the most demanding projects and applications. So it will be a strong global display engineering and marketing company successfully using a comprehensive expertise to solve unique display challenges and customer expectations. Moreover, ready for the next technologies, as our slogan says - "ahead of the future."
Sincerely yours,
Igor Pastukh
New catalogues

Download "Product Catalogue.pdf"

Download "EKTA-IdeaLab.pdf"
COMPANY FACT SHEET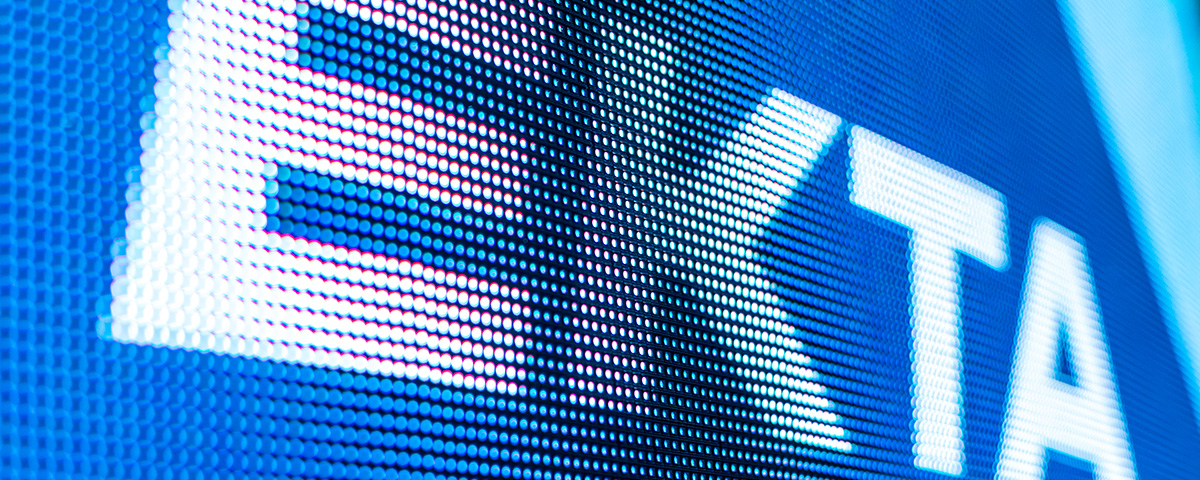 EKTA Company is a leading European developer and manufacturer of world-class LED products, delivering excellence to more than 30 countries around the world. The company's product line-up includes an advanced range of LED screens, variable message signs and LED lighting. For more than 25 years, EKTA has carried out hundreds of projects aimed at installing video screen equipment for a variety of markets including DOOH media, branding, sports and events, television, corporate AV, leisure and entertainment, traffic and transportation. One of the biggest EKTA achievements was breaking the Guinness World Record for the world's largest 3D LED television. The 7.11 m (diagonal) 3D TV was installed in Gothenburg, Sweden for the broadcast of the UEFA Champions League final in 2011.
Our mission:
We create visual technology in the atmosphere of fostering partnerships firmly based on self-fulfillment, thus opening а new perspective on the world.
Our priorities:
innovation
development
production
Main business activities:
Key Facts:
Founded: 1992, Ukraine
Head office: Kyiv, Ukraine
Branch office: Kassel, Germany
Manufacturing plant: Zhytomyr, Ukraine
Management:
Ruslan Vdovenko, CEO
Igor Pastukh, Adviser Director General, and Founder
Number of Employees: ~ 225
Сontacts:
Ukraine, 31 Turivska St., office 9, Kyiv 04080
Tel.: +38 044 428 7315
Fax: +38 044 428 7319
E-mail: This email address is being protected from spambots. You need JavaScript enabled to view it.
Web-site: www.ekta-led.com