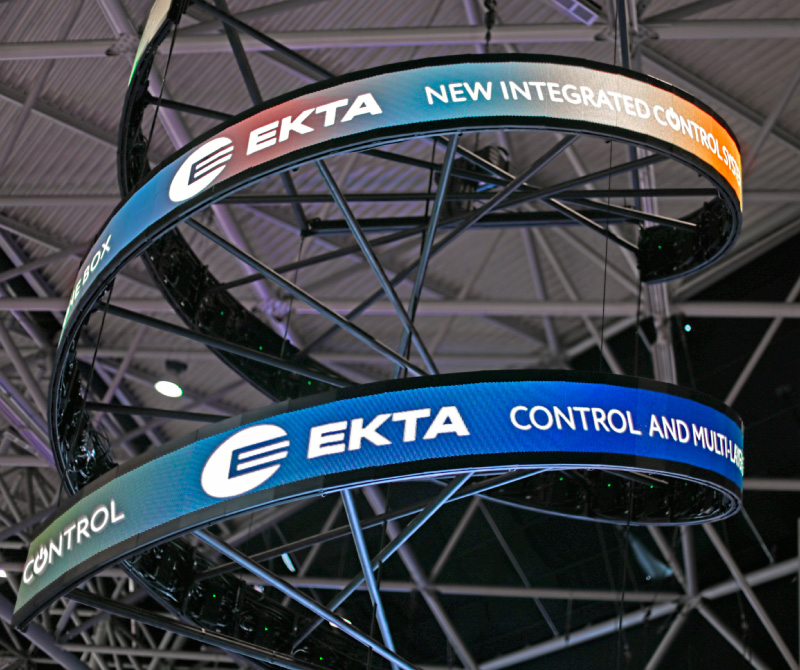 EKTA company has been participating in the Integrated Systems Europe exhibition for 8 years and for this time has become known for its out of the box solutions. This year`s ISE was held under the motto "CREATIVITY. RELIABILITY. TOTAL CONTROL ".
Creativity
At ISE 2016 we presented unique ‪LED‬ DNA structure made of 4.8 pixel pitch displays. A total weight of construction was 450 kg with a height of 3.3 m.
Our standard module frame allows building customized solutions of different types and sizes. With the help of EKTA`s control system ERMAC client can easily broadcast content on the video surface of any configuration.
Reliability
EKTA company showcased a new flagship model of displays for outdoor use - FrameLED LVM 4C-Qc with 4.83 mm pixel pitch. In this model for the first time combined complete protection against all types of environmental influences and modern standards of image sharpness.
It`s the world's first display with so small pixel pitch that can proud of an all-weather performance, including the whole possible security measures, which by the way have already become the hallmark of EKTA. The entire surface of the printed circuit board and electrical connections covered with water-repellent heat-resistant compound and it eliminates any influence of moisture. The use of «outdoor» class LEDs that passed additional environmental testing ensures reliable operation of the display in the range of ambient temperatures of up to + 40⁰C -30⁰C , humidity values are up to 98%, and also resistance to ultraviolet radiation. A power supply and a control unit of the video module also have the necessary level of protection from temperature and moisture. Guaranteed anticorrosion resistance of structural elements, dust and moisture protected design of all cable connection plugs - things without which you cannot really operate trouble-free under all-weather conditions. Staying lightweight and compact outdoor display module LVM 4C-Qc has the full protection class IP65, without the need for additional housing or sealing means.
Also at ISE we presented improved modification of the popular among the customers indoor display LVM 6C-Qc (6.9 mm) and recently introduced to the market high-resolution indoor display iLVM 2C-Qc (2.68 mm) both from the FrameLED product line.
The updated display FrameLED LVM 6C-Qc with a 6.9 mm pixel pitch differs by the raised contrast, which makes it possible to improve the image quality when operating under conditions of high ambient light, in bright sunny weather.
"Using the latest of small diodes has enabled us to achieve a high contrast ratio, while retaining all the advantages of the old model - high brightness, low power consumption, and reliability". - explains EKTA product manager of the LED displays solutions Roman Kharkhalis.
Display model iLVM 2C-Qc with a 2.63 mm pixel pitch, which EKTA introduced last year, has also been significantly improved. In particular, color and brightness uniformity, manageability of LEDs at low gradations, viewing angles widening. The more uniform illumination of the display was achieved by using the new driver TI TLC5957 and changing the schemes of diode rows connection.
Total control
ERMAC family control systems are the root of the EKTA LED display architecture, which holistically combines all levels of the signal processing and display parameters control.
"All elements of the system from the cluster on the LED panel to the control computer are unified hardware and software system, in which the original software (firmware and software) for the most efficient use of the component base (hardware) are used". - EKTA rental coordinator Andrew Vasilenko.
An optimized architecture in which there are no superfluous components improves the processing speed of signal transmission. This is particularly important with television and on projects with live broadcast.
"Turn on the screen, make it connected with the video camera, project your image on the screen, and clap – you will see no latency". - sales director Oleg Bogomolov.
The new generation control system ERMAC Ultra has the possibility of processing and outputting a signal in 4K (12Mpx) with a frame rate of 60 Hz responding to the latest market needs.
It has all features needed for a complete and quick setup of a display and an image in real time. One device combines 3 products. In particular, an image processor responsible for receiving and processing the video signal; a digital mixer, which depending on the configuration can simultaneously receive and mix up to 5 signals; a smart controller, responsible for managing the parameters of a display. The device allows the adjustment of such image settings: to choose the appropriate level of brightness and color temperature, to perform gamma correction, to mix video layers, to crop, and to scale. All parameters can be changed in a single window.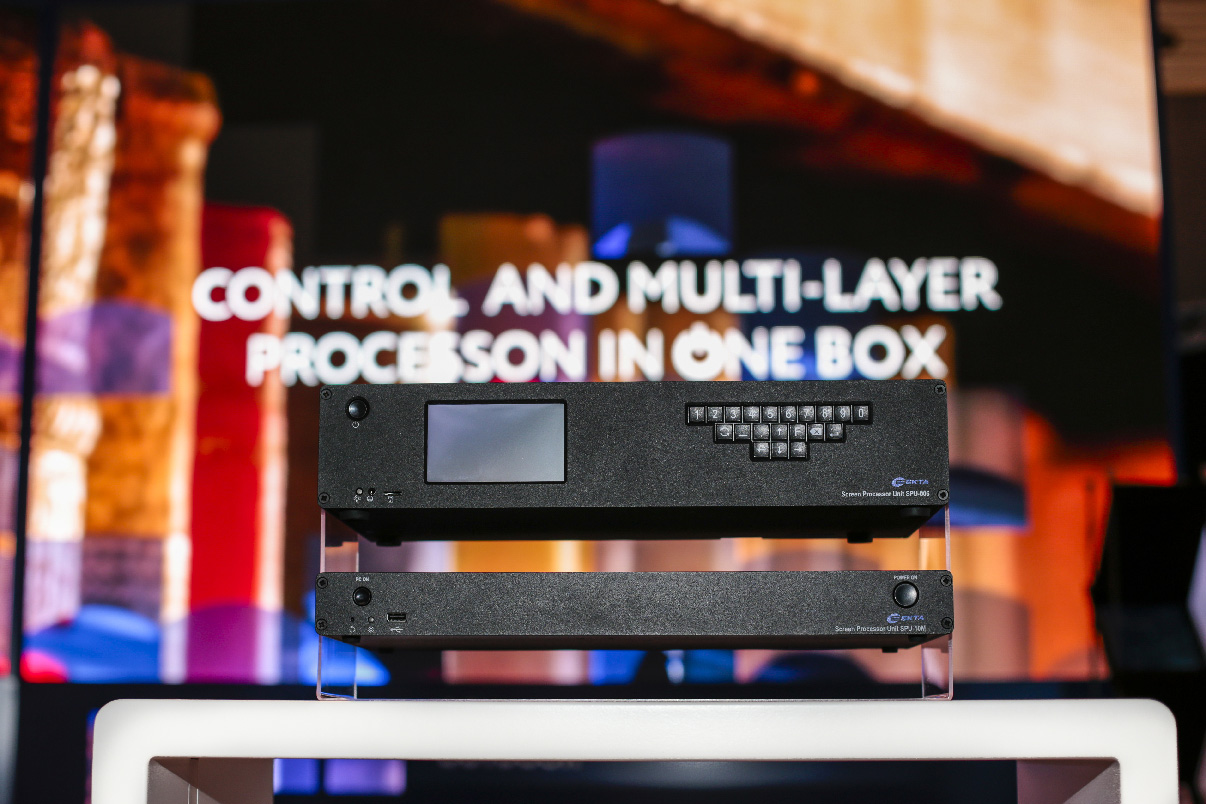 As in the previous releases the system is capable of receiving various types of video and sound signal. The connection between the ERMAC Ultra and EKTA displays are supported by fiber optics, allowing you to transfer signals quickly at a large distance.
Advanced video adjustments
Fast real-time image processing was the theme of the speech by our technical director Andreas Kaiser during ‪ISE 2016‬.
The main question for all specialists is how to achieve a perfect video surface uniformity especially when you have a limited time and more than one video wall. EKTA has a solution – the proprietary two-level calibration system ‪Uniformity‬². The most outstanding advantages customer receives are:
- camera-free adjustment;
- intelligent clusters with self-calibrating function;
- fast and easy brightness and color alignment;
- unifying of ‪LED‬ displays with different specifications, LED chips maturity and with LEDs from different manufacturers or different delivery lots;
- real-time adjustments;
- possibility to operate at a low brightness with no loss in color quality;
- high cost savings due to time and manpower; no costly follow-up after an event.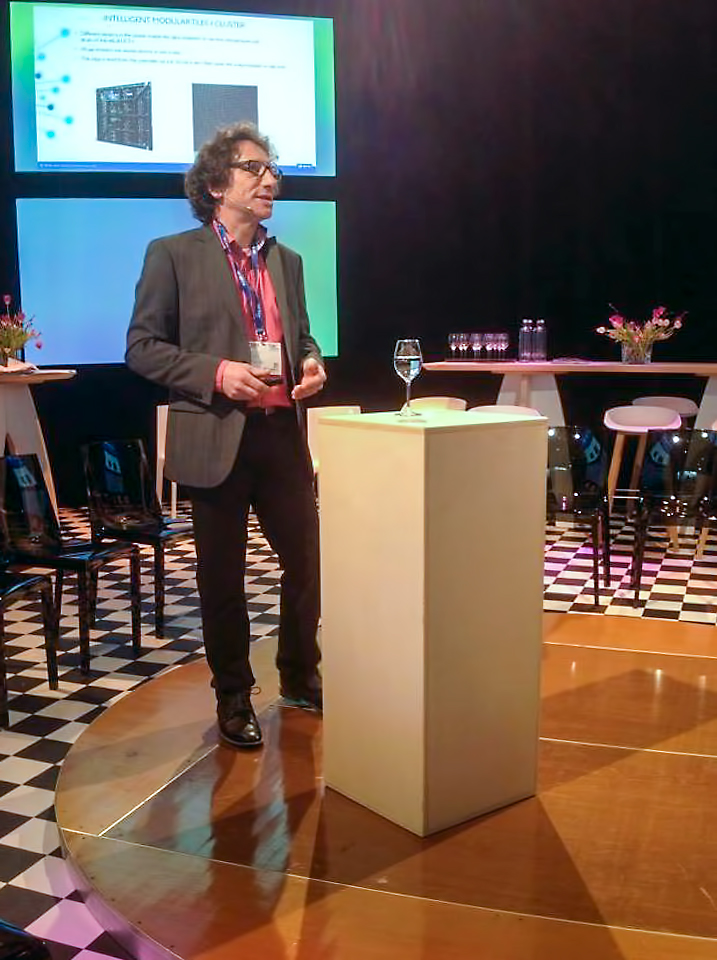 "Each EKTA cluster contains an intelligent processing and undergoes a pixel-by-pixel calibration procedure at the factory, with calibration data recording into the memory", – explained Andreas.
Technical Partnership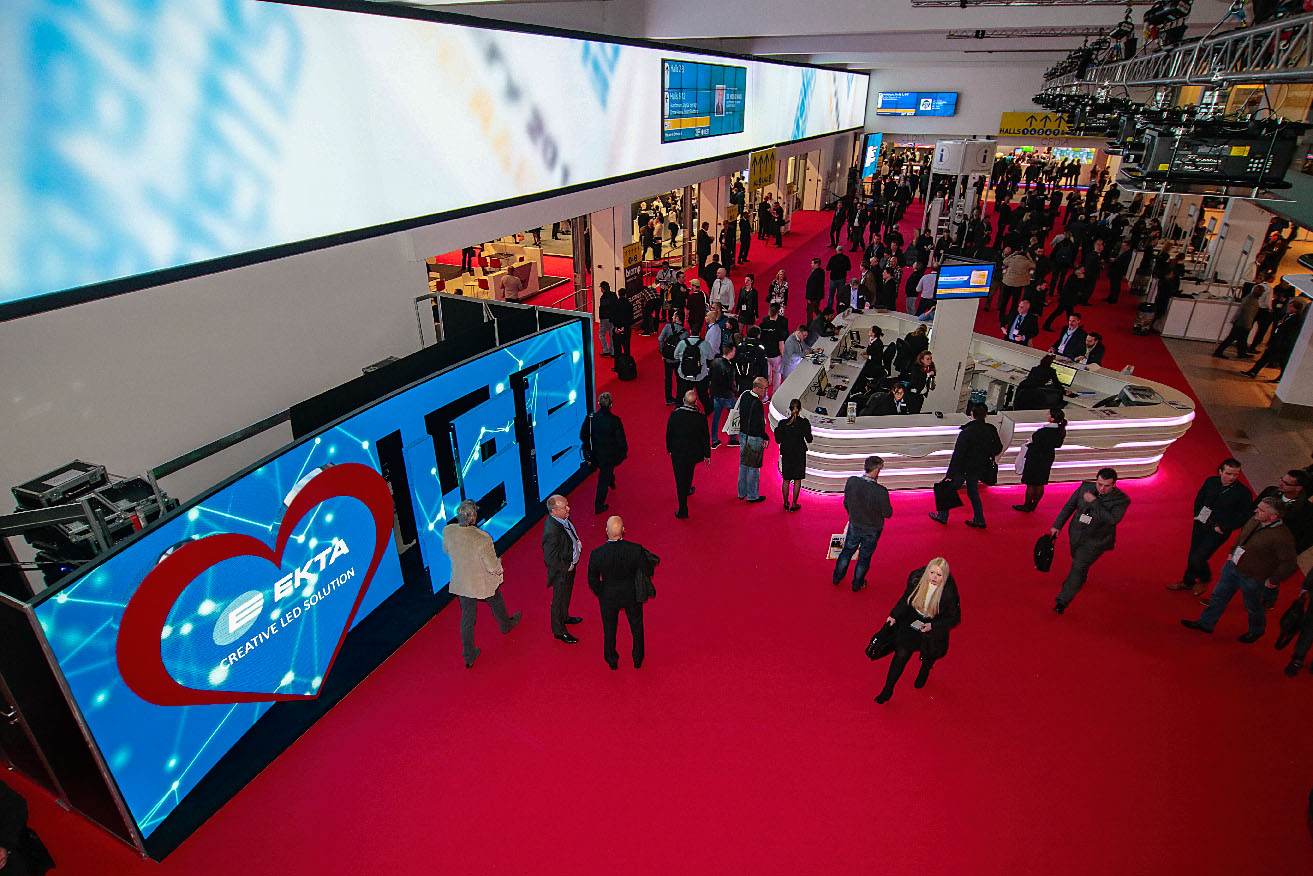 EKTA‬ have been working in inspiring partnership with ‪ISE‬ team since 2013. This year's booth was imbued with a love. Besides traditional Integrated Systems Europe ‪LED‬ abbreviation "ISE" we created the heart a total area of 3sqm.
"Thank you EKTA for making our entrance sign at ISE 2016 interesting". - Michael Blackman, managing director at Integrated Systems Events.
Integrated Systems Europe
The first Integrated Systems Europe tradeshow was held in 2004. Starting from 2008 EKTA is its constant participant. Today it is major professional show that reflects the situation on AV-market and enables to forecast its development trends. This year more than 1100 exhibitors were showcasing their products in 12 halls of the Amsterdam RAI with a record-breaking number of 66,000 attendees having passed through its doors. The show attracted more than 500 journalists of specialized media.